Do you know Shinkansen(新幹線)?
It is a train which goes from west to east and south to north of Japan
Very fast, and the look is stylish too!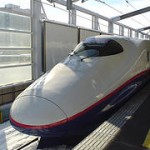 The seats are a bit bigger than as in the plane.
Very clean, very quiet.
It is a bit expensive compare to TGV in France but, is very comfortable.
If you are a foreigner who is planning to travel all over Japan, I recommend you buy a JAPAN RAIL PASS.
You get to chose 7day pass, 14day pass or 21 day pass for a quite reasonable price.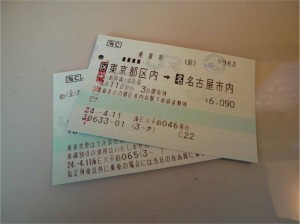 Have a luxury travel!
remi
+++++For those who are studying Japanese++++++++
新幹線(しんかんせん)を知(し)っていますか?
日本(にほん)を東西南北(とうざいなんぼく)にかけて走(はし)る電車(でんしゃ)です。
とても早(はや)く、見(み)た目(め)もかっこいいです。
座席(ざせき)は飛行機(ひこうき)より広(ひろ)く、とてもきれいで、とても静(しず)かです。
値段(ねだん)はフランスのTGVに比(くら)べると少(すこ)し高(たか)いですが、とても心地(ここち)よいです。
もし、あなたが外国人(がいこくじん)で日本(にほん)に旅行(りょこう)に来(く)る予定(よてい)なら、JAPAN RAIL PASSをおすすめします。
7日間(なのかかん)、14日間(じゅうよっかかん)、21日間(にじゅういちにちかん)のパスを比較的(ひかくてき)安(やす)い値段(ねだん)で買(か)うことができます。
楽(たの)しい旅(たび)をしてくださいね!
remi