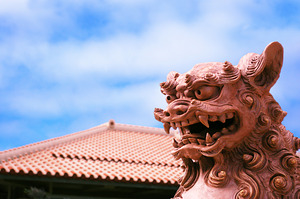 Japan is popularly called the Land of Rising Sun. A simple etymology will decipher why so. Japan is otherwise called Nippon or Nihon meaning " the sun's origin". But do you know the same word "japan" with the "j" in the lower-case has to do with lacquer-ware? It does. A term "japanning" meant imitating various Asian lacquer-ware in the 17th century. Later in the 19th -20th centuries the black color of Japanese lacquer ware found its way into Ford's naming of certain automotive finish – Japan Black.
The art of l lacquer-ware arrived in Japan with Buddhism in mid 6th century from China via Korea. Today, lacquer-ware is produced throughout the Japanese archipelago. Outstanding are the so-called Kamakura Nuri featuring thin lacquer coating to carved wood, Wajima Nuri at the port town of Wajima featuring the use of the elm-like Japanese zelkova and, lastly, Ryukyu Shikki way down south in the present-day Okinawa.
The features
Ryukyu Shikki represents a unique form and style distinct from the neighboring cultures, featuring the use of inlaid seashells and various local artistic motifs. It is noted for a brilliant red less common in the rest of Japan. The distinctive red color is obtained by mixing raw lacquer with red pigment in roughly equal amounts – a mixture turning blood-red in the sunlight. Okinawa's climate fits right into lacquer ware work which requires a balanced combination of temperature and humidity; Okinawa offers just that combination with an average temperature of 22.4℃ and a mean humidity of around 77%.
Besides forms and styles, Ryukyu Shikki is acclaimed for its beauty and sturdiness. Native woods abound in Okinawa, all suitable for lacquer ware. Deigo coral tree (Erythrina variegate) and Egokoki (Styrax j aponica), for instance, are both so sturdy and the grains so uniform that the products seldom crack. Sendan or bead tree offers impressive moire, so does Gajumaru ( Ficus retusa). Deigo is often used for large-size salvers and pots; Egonoki preferred for tea caddy, incense container, bowl, saucer, etc.
A few lines are due on a technique called Tsukin distinctive in Ryukyu Shikki. Lacquer is first mixed with pigments to form clay or putty. Shaped and carved, the clay is laid onto the object to create a three-dimensional effect. As casually mentioned earlier, Ryukyu Shikki features Mother-of-pearl inlay. Though not of Ryukyu origin, the art developed to a high level of sophistication richly employing papaya, plantain, palm trees, tomoe, and other such motifs of the sub-tropical islands of Ryukyu. The 20th century finds in Ryukyu Shikki popular designs based on the images of hibiscus and coral on more common tourism goods.
I might mention in passing that some Ryukyu traditional processes include the use of pig's blood for undercoat to bring out Ryuku's brilliant red color.
History
Now, we touch briefly on the history of Ryukyu Shikki. Shikki, incidentally, stands for lacquer-ware.
As the lacquer tree is not native to Okinawa, the raw material had to be brought in through trade. Unearthed lacquer-ware fragments suggest the industry budded already in the 14th -15th centuries. Records show an exclusive office known as Kaizuri Bugyo supervised craftsmen engaged in lacquer-ware production in the Ryukyu Kingdom.
In old Ryukyu, lacquer-ware was associated closely with politics and religion and used on many a ritual and ceremony often in forms of necklaces and such decorative articles. Lacquer-ware cups and bowls were believed to be tools for communication between God and man and widely used by the royalties and dignitaries on ritual and festive occasions. The Sho Family, the royal family of the former Ryukyu Kingdom, preserves among numerous cultural assets a set of lacquer-ware luncheon-basket, leg bowl and wine cups designated national treasures named "Nume Usuri".
Prior to the invasion of Ryukyu by the Satsuma Clan of Japan, Ryukyu had enjoyed a booming trade with Southeast Asia, Korea and China. The trade with China also flourished partly through tributary relations and also through common exchange of goods. The Satsuma Clan, the southernmost clan of Japan now known as Kagoshima, Kyushu, seized Ryukyu in 1609 and disrupted Ryukyu's ties with China and the rest of the southeastern Asian countries.
The arrival of a modern government in Japan at the Meiji Restoration terminated the feudal system and state monopoly. Ryukyu lacquer-ware came to find customers among common people and the industrial promotion exposition in 1881 offered them the first chance ever to see Ryukyu Shikki.
In 1902, an industrial apprentice school was founded in Shuri to rear lacquer-ware craftsmen to sustain the art of Ryukyu Shikki. Subsequently in 1927, the prefecture of Okinawa inaugurated a state-run Industrial Training Center and further in 1930 introduced powered lathes and sawmills. The war broke out; Naha was heavily air-raided in October, 1944.
By a stroke of luck, Ryukyu Shikki found its way out of the ravages by reviving its life, manufacturing lacquer-ware as souvenirs items for Americans, army civilian employees, PX, etc. The prefectural government installed in 1974 an exclusive department, Department of Traditional Crafts, and a center, Traditional Crafts Training Center, to back up the timely move towards promoting local industries.
In May in the same year 1974, the Japanese government placed Ryukyu Shikki among Japan's leading lacquer-ware e,g, Wajima Nuri, Yamanaka Shikki, Tugaru Nujri and Kiso Shikki, and formally called Ryukyu Shikki.
In 1986, Ryukyu Shikki was designated a traditional handicraft and listed among Okinawa's 14 traditional handicrafts.
Allow me to stress that in addition to a full variety of authentic cups and bowls, Ryukyu Shikki is equally rich in utility. Visit any shikki shops in Okinawa, you will find a variety of shikki pieces so charming – ideal for souvenirs. Chopsticks-rests, spoons, necklaces, ornamental hairpins, etc. etc.
In wrapping up our brief tour of Ryukyu Shikki, we first drop by a museum, Urazoe City Museum. Built in 1990, this rather new museum is the first shikki museum in Japan with a huge collection of Ryukyu Shikki since the 16th century down to the present. This is a must for you to visit. It's in Urazoe, Okinawa and costs only 150 yen!
Another must is Naha Traditional Handicraft Center in Naha. You can enjoy a bird's-eye view of Okinawa's traditional handicrafts not only Ryukyu Shikki but other items, such as various local fabrics from different localities. (Nathan Shiga)