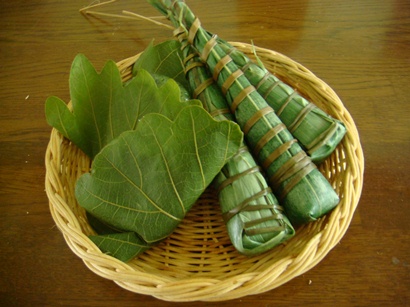 Today, May 5th is a holiday in Japan, it is called "Children's Day" wishing boy's healthy growth.
(For the girls, it is on March 3rd!)
On this day, we eat KASHIWA-MOCHI or CHIMAKI.
KASHIWA-MOCHI is usually eaten in the west of Japan and CHIMAKI in the east of Japan.
Of course, I will eat both!
Why we eat them?
KASHIWA-MOCHI – KASHIWA means "oak" in Japanese. It is said that old leaves of KASHIWA doesn't fall off until there are new leaves = meaning parents wouldn't die until the baby is born = prosperity of descendants.
CHIMAKI – there is an ancient story told that CHIMAKI will avoid bad lack.
Please see more details in below URL(Japanese):
http://www6.airnet.ne.jp/grama/cook/topix/tango/tango2.html
So! I ate CHIMAKI(sweat sticky rice wrapped by bamboo leaf)!
Right is CHIMAKI, left is KASHIWA-MOCHI(will eat it tomorrow :))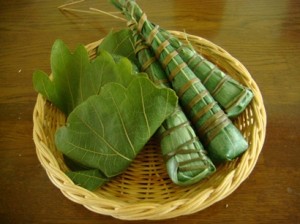 You will see the CHIMAKI inside…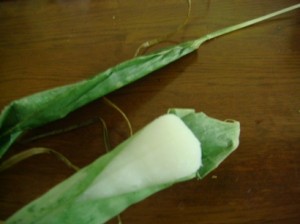 remi
+++++For those who are studying Japanese++++++++
5月5日(ごがついつか)は「子(こ)どもの日(ひ)」といって日本(にほん)では男(おとこ)の子(こ)の成長(せいちょう)を願(ねが)う休日(きゅうじつ)です。
(女(おんな)の子(こ)は3月3日(さんがつみっか)に願(ねが)います)
この日(ひ)に、柏餅(かしわもち)もしくはちまきを食(た)べます。
柏餅(かしわもち)は主(おも)に東日本(ひがしにほん)で、ちまきは主(おも)に西日本(にしにほん)でよく食(た)べられます。
私(わたし)はもちろん両方(りょうほう)食(た)べます!
なぜ日本人(にほんじん)はこれを食(た)べるのか?
柏餅(かしわもち)ー KASHIWAは日本語(にほんご)で「柏(かしわ)」です。柏(かしわ)の木(き)は新芽(しんめ)が出(で)るまで古(ふる)い葉(は)が落(お)ちません=子(こ)が生(う)まれるまで親(おや)は死(し)にません=子孫繁栄(しそんはんえい) という意味(いみ)でとらえられています。
ちまきーちまきは「難(なん)を逃(のが)れる」といわれています。
より詳(くわ)しい説明(せつめい)は下記(かき)のURLを見(み)てください:
http://www6.airnet.ne.jp/grama/cook/topix/tango/tango2.html
なので、ちまきを食(た)べました!
remi