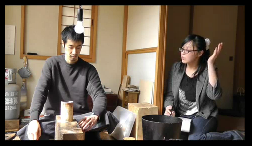 Today I would like to introduce you of the interview which was done by our staff, MIO, with an artist of Japanese Traditional Goods.
Kengo Yonezawa, the artist is making KABAZAIKU, crafts of cherry bark.
He is yound but he is very serious about Kabazaiku.
enojyo MIO and KENGO's talk!
remi
+++++For those who are studying Japanese++++++++
今日(きょう)はREMIOjapanのスタッフ、MIOと日本(にほん)の伝統工芸職人(でんとうこうげいしょくにん)のインタビューをご紹介(しょうかい)したいと思(おも)います。
Kengo Yonezawaさんは、樺細工(かばざいく)の職人(しょくにん)さんです。
彼(かれ)は若(わか)いですが、熱心(ねっしん)な職人(しょくにん)さんです。
MIOとKENGOのインタビューをお楽(たの)しみあれ!
remi