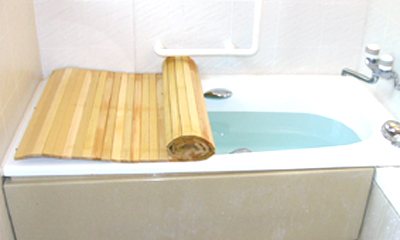 I think in most countries the reason is to get clean or to freshen up.
In Japan we take a bath to get clean and also to relax.
In normal houses,we have a little room just to take a bath.No toilet seats,no hower curtains,no senmendai.the flour, the wall and the door of this room is all water proofed so we can wash our hair and body out of the tub.And the tub is just to soak in hot water and relax.
As our soaking days goes by,our bathing world has involved.
And one of it is the Japanese bath salt(or you might say bath powder or bath bomb).In japanese we say"New-yoku-zai".
There are solid type,powder type and liquid type,but I think the solid type is most popular and fun.
You put it in the hot water and it will start to blend in the hot water,so you can stir the hot water a bit and the flavored hot water is completed!!
there are so many kinds of "New-yoku-zai" in japan, if you want you can change the flavor of your hot water every day!
depending on what your looking for there are ones that saids it helps improve the circulation of the blood and is good for your stiff neck and stiff back,
some saids it makes your skin beautiful,some has little toy in it and when it melts the toy comes out.
It's really easy and makes your bath time fun.If you come to Japan it might be a good souvenir for your friends and family.