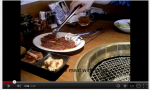 I went to YAKINIKU(焼き肉) yesterday.
YAKINIKU(焼き肉) is Japanese version of BBQ eating inside.
Japanese eat at home but eating in the restaurant is much better!
(Mostly beacause they use charcoal and good meat!)
I understand that if you go to a restaurant, you expect the waiter to server you everything.
But at YAKINIKU(焼き肉) restaurant…
no…
YOU server yourself.
It might sound strange to people in other countries, but this is a custom in Japan.
Not only YAKINIKU(焼き肉), there are SHABU-SHABU, SUKIYAKI… Japanese like to serve themselves.
This way, you get to eat in your pace, and you can chose how well your food to be cooked.
I assume that many of you get perplexed… so, I made a short movie of "How to eat Japanese YAKINIKU"!
enjoy and when you come to Japan, please try it!
remi

+++++For those who are studying Japanese++++++++
先日焼き肉を食べに行きました。
焼き肉とは、屋内で食べるバーベキューの日本版です。
日本人は、家庭でも食べますが、レストランで食べたほうがもっとおいしいです。
(その理由は、炭で焼いていることと、おいしい肉を使っているからです)
多くの皆さんは、レストランに行ったらウェイターがすべてやってくれることを期待しているかもしれません。
しかし、焼き肉屋さんでは、、、
違います。
自分自身で行います。
他の国の人は不思議に思うかもしれませんが、これが日本の慣習です。
焼き肉だけでなく、「しゃぶしゃぶ」や「すき焼き」など・・・日本人は自分で行うことを好みます。
そのほうが、自分のペースでご飯が食べれるし、自分の好きな焼き加減で食べれるからです。
海外の皆さんはこの慣習に戸惑うことかと思います。
なので、「How to eat Japanese YAKINIKU!」という短い動画を作りました。
動画を楽しみ、日本に来た時にはぜひ食べてみてくださいね!
remi