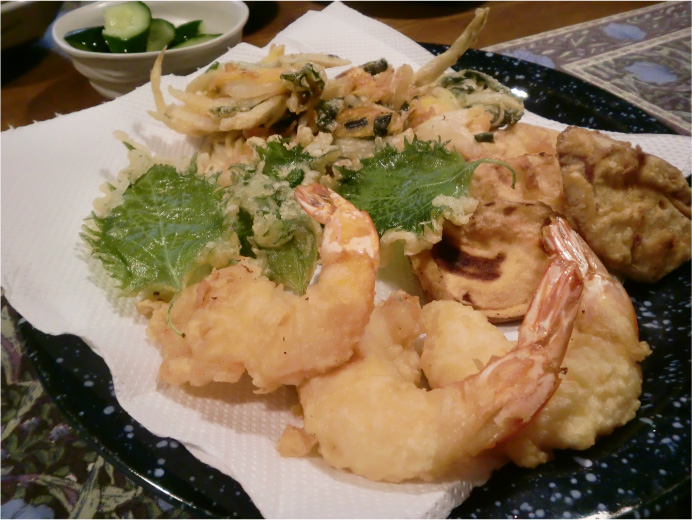 Today, I would like to introduce you one of a typical Japanese food, TENPURA(天ぷら)!
To explain it simply, it is "fried vegetables and fish" in a way…
Shrimps and prawns are very typical TENOURA.
Potatoes, mushrooms, pumpkins, sweat potatoes… and so on!
In your house, you can chose as you like.
I will write down the receipt in the future 🙂
It's goooooood!!!!
Normally you eat them with Japanese sauce but if you eat in a professional restaurant, you can eat only with salts.
It emphasize the taste of the food!
remi
+++++For those who are studying Japanese++++++++
今日(きょう)は日本(にほん)の伝統的(でんとうてき)な料理(りょうり)、天(てん)ぷらをご紹介(しょうかい)します。
どのようなものか簡単(かんたん)に説明(せつめい)すると、「揚(あ)げた野菜(やさい)と魚(さかな)」です。
エビは天(てん)ぷらの王道(おうどう)。
その他(ほか)に、じゃがいも、きのこ、かぼちゃ、さつまいもなどなど。
家庭(かてい)ではその他(ほか)好(す)きなものを入(い)れます。
今度(こんど)、レシピを載(の)せますね。
とってもおいしいです!
通常(つうじょう)、めんつゆで食(た)べますが、本格的(ほんかくてき)なレストランでは塩(しお)のみで食(た)べます。具材(ぐざい)の味(あじ)が強調(きょうちょう)されておいしいです。
remi