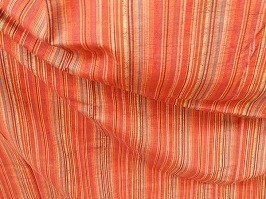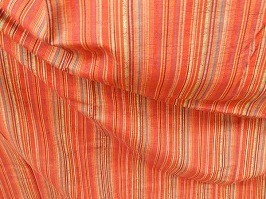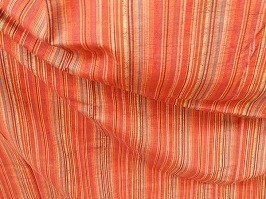 ( image from : https://www.kaitori-kimono.biz/topics/20140404kimono-new.html )
Many conservative people insist that a suit should be the best wearing to go to their business appointment and also expect others to follow "suit". However, more and more people are becoming fond of expressing themselves through their fashion and the way they are, and what to wear the day is their most important issue for them. If you are one of such fashionable people but watched carefully by conservative business partners, one of your options is wear Tama-ori.
What's Tama-ori?
Tama-ori is one of traditional manufacturing of fabrics in Japan, mainly practiced in Hachioji, Tokyo. You may well think, "Traditional manufacturing of fabrics in Japan? I can't wear kimono for my business meeting." Don't worry; even if your client is not tolerant to your kimono style, Tama-ori is still your perfect option. Actually, Tama-ori is historically recognized as "natty dress for such men" and applied to making a necktie, scarf and stole now.
The natty history of Tama-ori
Tama-ori is not a name for one certain method to weave a fabric; it is the collective term for 5 weaving methods developed near Tokyo: Omeshi-ori, Tsumugi-ori, Fu-tsu-ori, Kawari-tsuzuré, and Mojiri-ori.
The hometown of Tama-ori, Hachioji, has been called "City of mulberry" for a long time. Mulberry was feed for silkworms in the region, which produce the greatest cocoon for the fabric. Because of the convenient location near Tokyo (or Edo, in the time), the people practiced and developed the method to make greater fabrics according to the need of the city people. On the other hand, they also made efforts to preserve the traditional methods, and this gave a birth to the unique fabric made by the eclectic mixed method of the old and the new. They called "Tama-ori" some historical methods of weaving then.
As most of the population in Edo were male, Tama-ori was loved as the brand of natty gentlemen. Although it has many fans of ladies, of course, this historical background turned Tama-ori into the lasting fabric for gentlemen even to today.
Five weavings of Tama-ori
Now, let's delve into the 5 weaving methods. The first one is Omeshi-ori.
The feature of Omeshi-ori is its ruck. This special crease is called "Shibo" in the Japanese technical term. The yarn is twisted 3,000 times per 1 meter, and clockwise-twisted one and anticlockwise-twisted one are used alternately to make the ruck. This is the most famous weaving of Tama-ori.
The second one is Tsumugi-ori", whose surface is lumpy. This lumpiness comes from the special yarn used. One yarn to make Tsumugi-Ori is called "Tama-ito", which is obtained by the combination of two cocoons of as many silkworms to be striated: the other yarn is called "Tsumugi-ito", and this is made from the floss silk of silkworms.
The third one is "Fu-tsu-ori": this weaving is two-layered, and the ground color of the surface is the main color of the back. It means, you can enjoy this weaving reversibly.
Kawari-tuzuré has a really intricate design. This weaving method uses many and as colorful yarns to produce the greatest pattern on the surface.
The last one, Mojiri-ori, is almost transparent. No, not exactly transparent, but this weaving dare to leave some rooms between yarns; therefore, it gives clearness and transparency.
The modern Tama-ori
As mentioned above, Tama-ori has been recognized as gentlemen's special fabric since the Edo era (17th century), and this image is still true today; many Tama-ori manufacturers weave neckties, which are mainly for business"men", to venture to say. Tama-ori neckties started to be wove in the Taisho era (from 1912-1926), which is relatively recent, but the techniques and designs loved in Edo were wholly employed to make the modern one.
Of course, in these days, Tokyo is recognized as one of the most fashion-savvy city, where many international clothing brands hold the exhibition of their collection, as held in Paris of France or Milan of Italy. Such sensitive feeling to what we call fashion is also applied to Tama-ori products, but at the same time, they never forget the history and tradition built in Tama-ori. The eclectic mixture of the old and the new is never lost.
In this regard, Tama-ori has two brands in the main line. One is "Kuwa-no-miyako (桑の都)" and the other "Mulberry City". Actually, Mulberry City is translated into Kuwa-no-miyako in Japanese. Mulberry is kuwa, and City miyako.
Kuwa-no-miyako was named after an old Japanese poem which depicted the landscape of the hometown of this fabric, and this line produces mainly Japanese wearing items, like kimono. On the other hand, Mulberry City produces Western wearing items, like neckties and scarfs of Tama-ori for more daily use. Daily use? Yes, it's more affordable and inexpensive to get such accessories than to purchase traditional kimono.
Who should pass down this culture to the future?
The next generation should be nurtured. Some artisans of Tama-ori, while weaving greatest neckties, teach children at nearby schools as volunteer. This experience may produce the next master of Tama-ori, who will succeed this legend.
However, of course, it is so important for us to support the activity and culture like this by wearing the products. All we have to do is to wear the special necktie for our next business meeting, which will impress our clients and may drive them into purchasing their one.
Or, you can even order your original necktie through the official site. You can make your own one with your name on it, or it is also possible to give such a one-of-a-kind (literally) necktie to somebody special.
If you are the president of your company, it's also so nice an idea to give your workers the special necktie with the company logo on it as a token of your appreciation for them. The appreciating speech should be like this: "Thank you for your all hard effort on the company! I have a special present for you all, Tama-ori Necktie! Tama-ori is Japanese historical weaving of the eclectic mixture of yesterday and tomorrow, and our company also should cherish yesterday and look forward to tomorrow like Tama-ori! Cheers!"
References
http://hachioji.mypl.net/mp/work_hachioji/?sid=2667
http://www.weblio.jp/content/%E5%A4%9A%E6%91%A9%E7%B9%94
http://mulberry-city.com/#id0(リンク先ではBGMが鳴ります)
日本の伝統的織りもの、染めもの
日英対訳 日本の歴史100