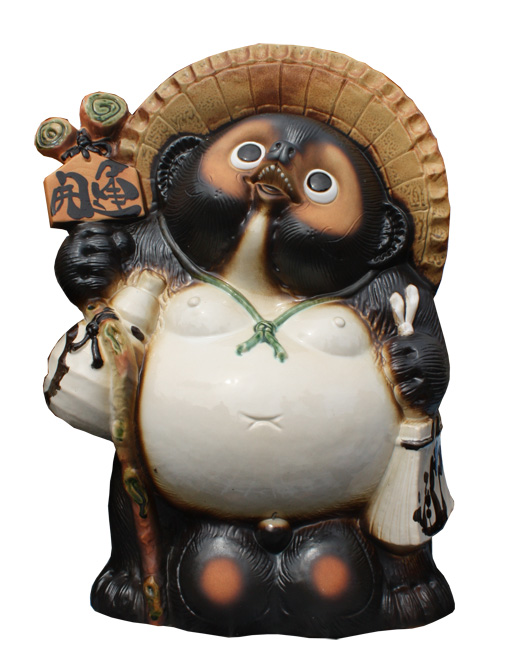 The Outline of Shigaraki Ware
Shigaraki Ware (信楽焼) is a traditional pottery and the proud of Shiga Prefecture. It was known as a ceramic for tea ceremony, but now it has a wide variety of kinds, for example, braziers, umbrella stands, not to mention bowls and plates. It usually has warm colors, like flesh color, soft pink and reddish brown, and its surface is rough to the touch due to the nature of local clay. Shigaraki Ware has 1250 years of history, and its kilns have been recognized as one of six old Japanese potteries called Rokkoyo. As its name suggests, Shigaraki Ware is from Shigaraki region. The region is highlands with full of nature, and it is renowned as the birthplace of ceramic tanuki (raccoon dog) figures. Since the tanuki ornaments have friendly yet unique looks, such as a big belly, big eyes, and a big sedge hat, the figures are loved by many people and have become synonymous with Shigaraki region and Shigaraki Ware. The features and history of Shigaraki Ware are closely related to the characteristics of this region. It is no exaggeration to say that Shigaraki area makes present Shigaraki Ware's achievement possible.
Features of Shigaraki Ware: 1. Clay
Shigaraki Ware has many interesting and unique features. To begin with, let us take a close look at the crucial materials of Shigaraki Ware – clay. Shigaraki Ware is made of a mixture of coarse clay soils and soil that contain carbonized chips of wood. Because of the chips, the mixture of clay becomes elastic and easy to shape it into big dishes and thick bowls. Besides that, the chips give pottery high resistance to fire. Since the clay does not contain a lot of iron, the pottery has faint and soft color. (There is also another type of Shigaraki Ware, which is called 'Kuro Shigaraki'. This type looks blackish brown as it is made of clay contains a lot of iron. In this article, however, only major type of Shigaraki Ware is focused.) As it mentioned before, these clay is from Shigaraki region. The region has been famous for its high quality soil, and the soil contains a lot of chips of plagioclases (a type of rocks). However, potters do not elutriate the soil to make it smoother; rather, they make use of plagioclases. Plagioclases have properties that it melts at a high temperature, so that the surface of the pottery has many little milk-white dots due to the melted plagioclases. As a result, the numerous white dots became one of the outstanding features of Shigaraki Ware.
Features of Shigaraki Ware: 2. Colors
Other unique features are brought by baking processes. Firstly, the color of Shigaraki Ware changed dramatically. Before baking, pottery have just clay color (usually creamy white), but it changed to flesh color or reddish brown after firing. These colors are called 'Hiiro', which means fire colors. Humidity and temperature affect on the tone of the beautiful faint red color. Incidentally, this tone-change effect is sometimes difficult to control, and colors that only happen in specific kilns are called 'Kama-aji'. Kama is kilns and aji is taste in Japanese, and in this case, the word Kama aji means 'the tasteful color only done by specific kilns'. Besides the warm color, Hiiro, Shigaraki Ware has dark-colored parts on its surface. This is the second feature, and is called 'Koge (means scorching)'. In kilns, ash from firewood piles up during and after baking. When potters put pottery in the kilns, the bottom of pottery is covered by the ash, and the covered part changes the color to blackish brown. Especially in tea ceremonies, pottery with Koge is valued very highly.
Features of Shigaraki Ware: 3. Glaze
Third and last feature is its beautiful glaze. There are two types of glaze that are famous in Shigaraki Ware, and they are 'Shizen-yu / Vidro-yu' and 'Namako-yu'. The first glaze – Shizen-yu / Vidro-yu is actually different form usual glaze, because it happens spontaneously in kilns. This special type of glaze happens when plagioclases and ash from firewood get mixed and melt together on the surface of pottery. The two materials become glassy glaze and turn to be beautiful greenish blue or yellowish green. Since the glaze (yu: Japanese) happens spontaneously (Shizen: Japanese) and has glassy (Vidro: a loan word from Portuguese) feature, it is called Shizen-yu or Vidro-yu. The second glaze – Namako-yu means sea-cucumber-color glaze in Japanese. The glaze is put twice on pottery to make beautiful blue color. Since this glaze is used for Shigaraki braziers, which account for the majority of production of braziers in Japan, it became typical of Shigaraki Ware.
History of Shigaraki Region and Shigaraki Ware
It was briefly mentioned in the beginning that Shigaraki region has been playing an important part in present Shigaraki Ware's success. In this paragraph, let us see the history of Shigaraki Ware while taking a close look at Shigaraki region. Shigaraki area is located in the middle of Kinki region (the southern-central region of Japan). Kinki region got a lot of influence from Korea, and it has been famous as the thriving center of Japanese culture. In the flourishing region, Shigaraki area is connected to major streets and favored with good soil that is suitable for pottery. Because of these three good points of the area, an emperor considered the area as one of the candidate sites for building the Imperial Palace before. Incidentally, the present great image of Buddha in Nara was planned to build in Shigaraki region.
It is considered that the beginning of Shigaraki Ware is in 742. In this year, the then emperor, Emperor Shomu, commenced building Shigaraki Palace as a part of project to place a capital in present Shiga Prefecture, and roof tiles of Shigaraki Palace was made with Shigaraki Ware. It was supposed that Shigaraki Ware would steadily develop after this construction, but a big fire broke out in the capital and burned everything up. Until the last part of the Muromachi period (ca. 1450-), Shigaraki Ware did not make remarkable progress, but its technique was barely inherited by farmers. After the latter part of the period, however, Shigaraki Ware attracted a lot of attention in the tea ceremony until the end of Azuchi-Momoyama period (- ca. 1600). The reason is because Juko Murata, the originator of 'Wabi-cha', found the core thought of Wabi-cha in Shigaraki Ware and preached it to his pupils. Wabi-cha is a style of Japanese tea ceremony and its core concept is austere refinement called 'Wabi'. Sen no Rikyu, a world-famous tea master, also associated with this style.
In Edo period (ca. 1600-1870), pottery related to tea ceremony was still popular, and bowls and plates were also baked for daily use. Even though Shigaraki Ware started to show its development, kilns of it were still relatively small. It was Meiji period (ca. 1870-1910) that the kilns became as big as present large kilns. Besides that, glaze was improved and production of braziers prospered in this era. From Taisho period to Showa period (ca. 1910-1925), ceramic ornaments and decorations, such as garden lanterns prospered. In Showa period (ca. 1925-1990), Namako-yu (see the last paragraph) got invented, and pottery with hand-painted design started to produce for the first time. As can be seen from the history of pottery in Shigaraki, Shigaraki Ware has been always adjusting itself to the needs of each period and looking for opportunities to get further achievements. It is quite rare that pottery keeps innovating new techniques, extending its variety, and changing for the demand in such a long span – 1250 years. These continuous effort and passion of potters make Shigaraki Ware possible to be recognized as one of Japanese traditional crafts.
References
・日本セラミックス協会
http://www.ceramic.or.jp/museum/yakimono/contents/shigaraki/sanchi_shigaraki.html
・信楽陶器工業協同組合
http://www.shigaraki.ne.jp/index.html
・やきもの総合サイト
http://www.yakimono.or.jp/sanchi/shigarakiyaki