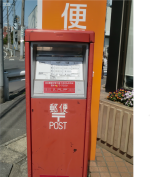 If you have travalled to Japan.
You've probably seen this.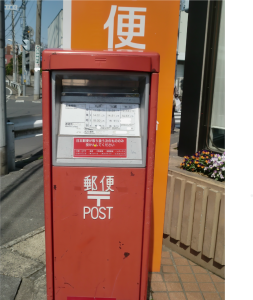 Yes, this red box is a mailbox.
If you have put the stamp, you can put it in here and will take it to anywhere you wish.
If you have a question, or don't know how much it should cost, find this.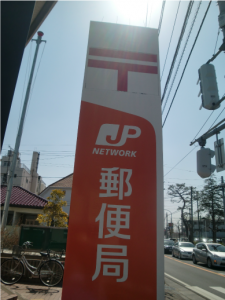 This is the mark of the post office.
Go in the post office and ask how much it is and they will help you!
+++++For those who are studying Japanese+++++++++++++++++++++++++++++++++++
もし、日本(にほん)に旅行(りょこう)に来(き)たことがあるなら、これを見(み)たことがあるでしょう。
この赤(あか)い箱(はこ)は、郵便(ゆうびん)ポストです。
もし、切手(きって)をすでに買(か)っているなら、このポストに入(い)れればどこにでも送(おく)ることができます。
もし、質問(しつもん)がある場合(ばあい)、もしくはいくらかわからない場合(ばあい)はこれを探(さが)しましょう。
これが、郵便局(ゆうびんきょく)のマークです。
郵便局(ゆうびんきょく)に入(はい)り、いくらか聞(き)けば、郵便局(ゆうびんきょく)の人(ひと)が助(たす)けてくれます。