Description


A unique hexagon shaped vermilion tray will suits anywhere and look good everywhere. Akita's wild cherry bark craft has been appreciated for many centuries for its beautiful texture and unique craft techniques and there are no other products quite like it.
DETAIL
Selected Materials…


KAKUNODATE in AKITA prefecture is know for traditional residences and rows of cherry trees. This is where the crafts of wild cherry bark wood, KABAZAIKU has been inherited for over 230years. KABA specifically means the bark of Yama-Zakura tree, which makes the work completely unique. With original technique, it emphasizes its rich, deep color, glorssiness of KABA. The craft provides a variety of everyday products with smoothness, strength and its moisture / dry proof character.
Message from KABAZAIKU artist
SIZE
| | |
| --- | --- |
| LARGE | SMALL |
| | |
*For purchasing SMALL, please clickHERE
SIZE detail
Item : Hexagon Tray
Size : Large
W x L x H = 235mm x 235mm x 40mm
Weight : 270g
Made in : JAPAN
Made from : Wood(medium-density fiberboard), Natural Wood, Urethane lacquer
*Since the products are made with care, if lack of stock, it may take more than 1month.
(If you would like to make sure if there is a stock, please contact us before order.)
**Since KABA is natural material, the color and the pattern might differ from the picture on the site.Due to the natural material and the way it is made, there might be a small space when closing the lid.
PRODUCT IMAGE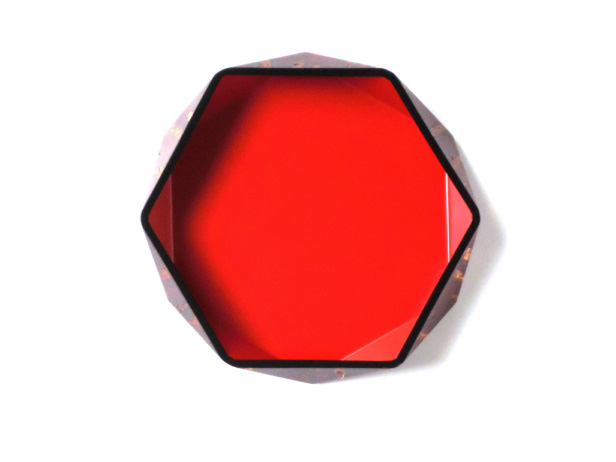 Hexagon Tray(Large)
Shipping Fee: INCLUDED
Delivery Date: 10~25days