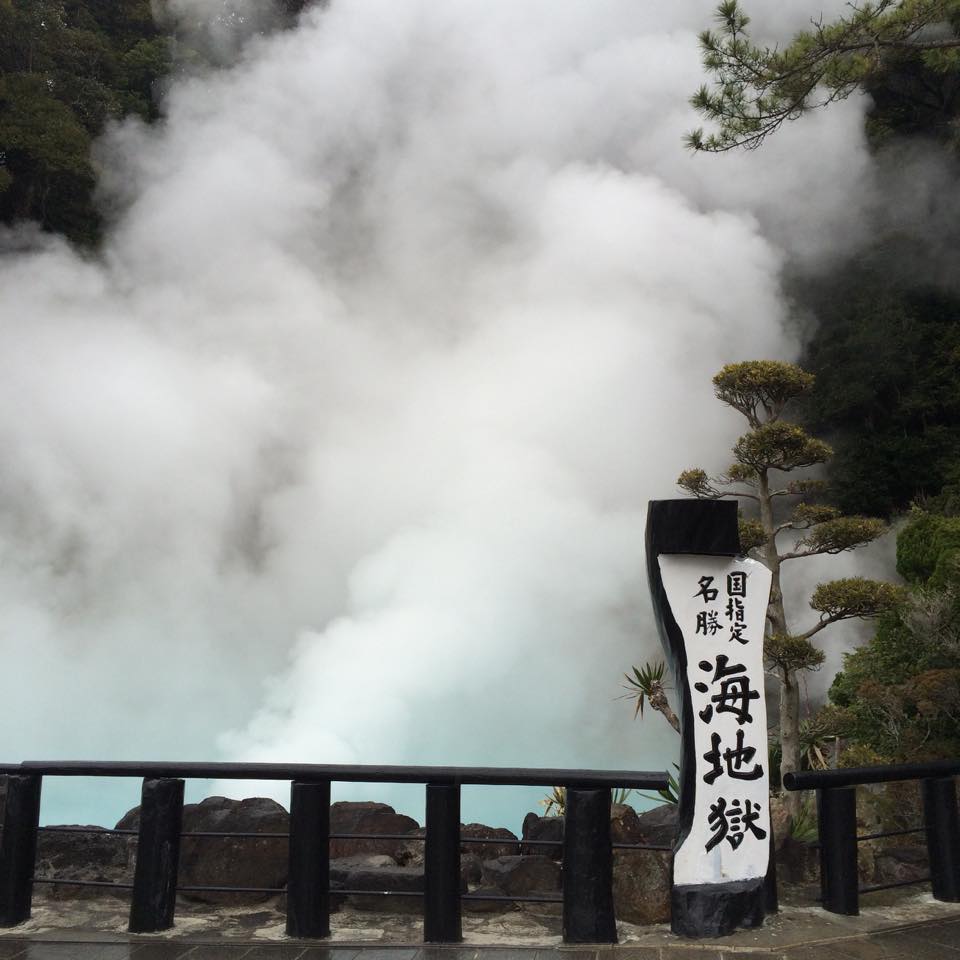 Onsen (hot springs) are one of the most relaxing experiences in Japan and are highly recommended. Many cities throughout Japan are famous for their onsen, including Beppu, Oita Prefecture. Places with onsen faciliites will be marked on most maps using the symbol ♨.
Effects of the Onsen
The effects of the onsen will vary based on the amount and type of minerals in the water. This information will typically be available at the onsen, along with the particular effects associated with that type of onsen.
In general, onsen are said to improve blood circulation and certain skin problems. Also, the calming effect that onsen have is claimed to produce mild results for anxiety disorder and depression.
However, even if you do not have any particular illness or concern, you can still you the onsen as a outlet for relaxation and stress relief. There's a certain sense of rejuvenation that one feels after experiencing the onsen.
How to Use the Onsen
There are a couple of things that make the onsen different from just having a regular bath. In addition to this, there are Japanese customs regarding the onsen that one must keep in mind.
When you first step into the building of the onsen, there will usually be a foyer to take off your shoes and then put them in a locker (usually coin operated). You will then move to the counter where you pay for entry into the onsen.
After this, you make your way to the onsen part of the building, which is separated into women's and men's baths. There will be a locker room to get undressed and store your belongings. All clothing must be removed and long hair is to be tied back. You may use a towel to cover up but make sure not to place it into the water of the onsen.
Next there will be a place to take a quick shower. The only difference here is that is it sit-down style. After washing your hair and body, you are ready to experience the actual onsen. There may be several different types of baths containing different types of minerals, or there may be bath sets at different temperatures, etc. Sometimes there will be massage baths, open-air baths, saunas, etc. that you can experience all at the same place.
Tattoos in the Onsen
It is rather famous that tattoos are not allowed in Japanese onsen. In fact, many onsen have signs posted outside saying "no tattoos". It isn't recommended that one go into an onsen with any tattoos exposed. If you have a relatively small tattoo, you might still be able to enjoy the onsen if you cover the tattoo up with a bandage of some sort. There is also an increasing number of onsen that allow tattoos if this is a concern.

While the customs regarding the onsen may seem strict at first, when in doubt, you can always ask someone, or just do as you see those around you doing. Don't forget that the point of the onsen is to relax and have a good time!

This entry was posted in